Best Fabrics for Summer Travel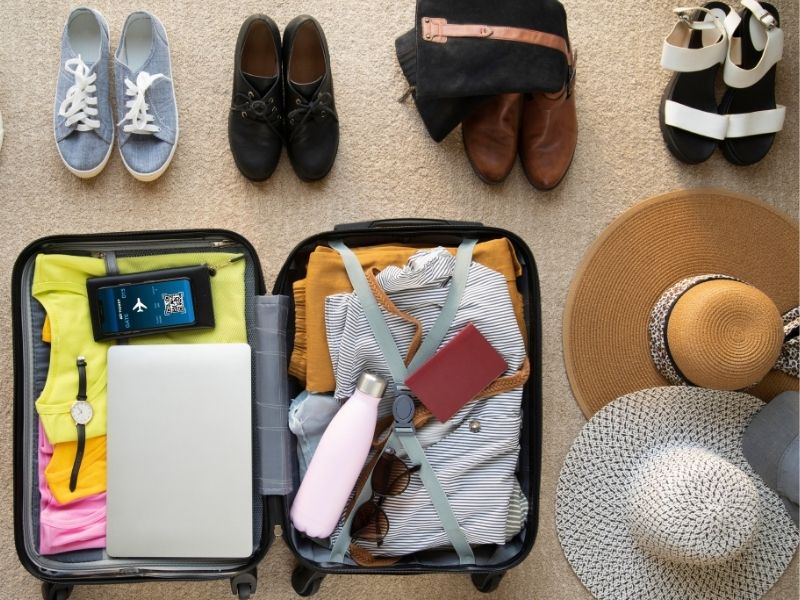 I don't know about you, but I'm ready to hit the road this summer! 
Coming out of such a long period of constraints and travel limitations, most of us are already planning vacations with friends and family or getting ready to visit a destination from our bucket list.
Whether you're planning a road trip or flying to your favorite destination, make sure to include some of these fabrics when you're making your bags.
Lyocell (Tencel):
The stretchy, soft and silky texture of this fabric makes it ideal for super comfy t-shirts and casual dresses. This fabric is 50% more absorbent than cotton, perfect for the hottest days. 
PROS: Breathable, moisture-wicking and feels soft against the skin.
CONS: Delicate fiber (avoid putting it in the dryer). 
CARE: Hand wash in cold water or use gentle cycle, line dry to extend the life of your garment, use a warm iron only if absolutely necessary. 

*C

heck the manufacturer's care label for lyocell blends.
Cotton:
A popular fabric and a favorite when it comes to warm climates. As with most fibers, cotton is available in several weights so it's important to keep that in mind when shopping for summer pieces.
PROS: Soft and lightweight, absorbs sweat and keeps your body cool.
CONS: Prone to shrinkage, poor elasticity, stains and wrinkles easily.
CARE: Wash in cold water to avoid shrinkage and tumble dry on low setting (remove promptly). 

*C

heck the manufacturer's care label for cotton blends.
Linen:
One of the best suited fabrics for summer, this sturdy and resilient fabric absorbs perspiration and dries quickly. It can withstand high temperatures, so it's perfect for exploring the great outdoors or lounging on a tropical island.
PROS: Strong, biodegradable and absorbs moisture without holding bacteria (naturally moth resistant).
CONS: Wrinkles very quickly, may feel a bit rough against the skin but will become softer after washing a few times.
CARE: Hand wash cold or in delicate cycle and air dry (keep out of the dryer as much as possible). *C

heck the manufacturer's care label for linen blends.
Rayon and Rayon Knits:
A favorite for intense heat, this fabric is more breathable than most summer fibers. It is slightly more wrinkle resistant than cotton but it does not absorb much moisture so it is more suited for dry heat.
PROS: Breathable and the silk-like feel drapes beautifully.
CONS: Despite being made from wood pulp, the manufacturing process is extremely polluting (thrifting a rayon piece will keep it out of landfill a bit longer). 
CARE: Almost always needs to be dry cleaned. 

*C

heck the manufacturer's care label for rayon blends.
Chambray (Denim):
This fabric is the light-weight version of denim and it's typically made from 100% cotton. Its softer texture and thinner construction makes it perfect for spring and summer weather.
PROS: Breathable and lightweight, keeps you cool and dry in humid climates.
CONS: Wrinkles more easily and not as versatile as regular denim.
CARE: Wash in cold water and tumble dry on low setting. Press with hot iron (on cotton setting) and use steam to help smooth out wrinkles. 

*C

heck the manufacturer's care label for chambray blends.
Hope you found this information helpful, please share with your friends on Instagram, Facebook and Pinterest.
Safe travels!
---